23 September 2000 Cascais, Portugal

During the passage from Portugal to Porto Santo, a small Portuguese island 30 miles from Madeira, I experienced stable winds for the first time. Down along the length of the Spanish and Portuguese coastline there ought to be what is called "the Portuguese wind", a stable north wind. But at least this year it was on strike. I never experienced it, and most sailors I talked to were more or less frustrated because of the many hours going by engine or jibing.
The trip ought to take me about four days. There are around 470 miles. But because of a single night with a strong breeze where I quickly "gave up" (my bad experiences taken into account), I put the boat in heave-to position and slept all through the night. Due to this, I ended up spending a little more than five days at sea. But five wonderful days with stable northeast winds of Beaufort Force 5-6 day and night. I would prefer stable winds of Beaufort 4-5, since you have a bit more latitude as to when to change sails. But you really shouldn't be complaining when, finally, the wind is blowing.


7 October 2000 Porto Santo, Portugal (Island in the Atlantic Ocean)

At first I'm out, then I'm there

How come my home is always right here

Indeed because I'm lucky like a snail with its house on its back

I'm (travelling) in my home - On board which I'm always safe. J.H.


When I left Cascais I put up two boom foresails and only touched them once that night, when I had to. It was an exquisite pleasure. Some work is associated with taking down the foresail, booms and lanyards, and putting up the mainsail, reefing, etc. Naturally you wait as long as you can. Hoping that it doesn't get any worse so continuing is still an option. But at the same time it's important not to wait too long, since you have to go to the foredeck to work if the wind increases. The choice you're left with seems like choosing between cholera and the plague!

It's wonderful when the boat is tearing along, and tampering with anything that works is a bad idea. Of course it would have been easier if you were able to receive weather reports, which many can. But without the equipment, you're left with no other options than guessing and reading the clouds. That isn't working out well, maybe I'm short-sighted.

I arrived at Porto Santo at night time and 20 miles from shore the wind dropped to almost nothing. The boat was doing about 2 knots. In stupid waves, so it turned out to be an unsteady navigation. The waves meant that I couldn't go by engine, and I tried sleeping for 30 minutes at a time. Only problem was that I overslept. When I woke up at the break of dawn, I had travelled 2-3 miles along a rocky shoreline only 500 metres out!!!

I haven't got any detailed nautical charts. I obviously should have just parked it out there (Heave to), and landed in daylight. In the future, I will be sure to do just that. It was down to pure luck that my carelessness (stupidity) didn't cost me the boat.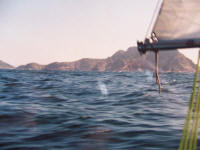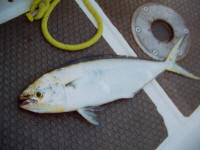 Dinner Dinner

Whew! Just arrived and very happy, because it's pretty grim out there: