30 May 2001 Papeete, Tahiti

The wind came back last night. Not much though. The flag is hanging straight down but the tell-tale is flapping a little and the boat's able to go 1.3 knots by the autopilot.

(Here) late in the afternoon the wind pulled itself together and I had to reef (in) the first reef(/rope).
The whole time I had the feeling(/impression) that I just needed(/had) to get out of this area before(/then) I would find wind. It just so happened to take three days before I could get a little wind to get me out of it(/there).

I called at the harbour(/port) around 10 p.m. and quickly found a place to anchor, and left the boat.

Trojka after 35 days on the Pacific Ocean. Papeete, Tahiti: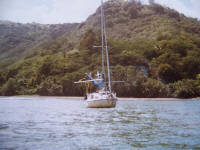 I didn't know where Natalie was staying(/residing) before I had found an internet access. I luckily found(/managed to find) a bar that had a computer and found the address also. After calling Natalie and catching(/finding) a taxi, I was on my way. The driver(/chauffeur) could find the address so we drove back to town to pick up a lady, who ought(/should) know where to find the house. She didn't(/couldn't) find it either so we had to go back and find a phone box to call Nat and get (the) directions, and then we found the right house.
There was joy(/delight) in(side) the small house. She had waited impatiently for a few days and was beginning to be(/get) nervous.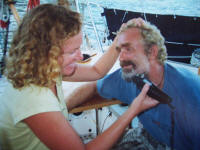 Nice()Lovely) with a shave after 35 days on the Pacific Ocean


At the anchorage I saw Ladybug, Stacy and David's boat. They wanted to wait for me to arrive and spend a couple of days with us. They too were beginning to speculate(/think) about what had happened to me. People with engines just have never tried sailing the way I'm doing. That is lying still that much time, waiting for the wind. But they're not realizing(/understanding) that they're in fact cheating themselves from(/of) many experiences (but it is also often laborious(/tiresome) when it like my last time takes days for the wind to arrive).


4 June 2001

Nat's mom has bought us plane tickets (Canada - Hawaii return tickets) for(/to go to) Nat's sister's wedding. What a mom. She has also(/even) bought me a toothbrush!!! We haven't met yet, but she's a dental technician.

I moved the boat from the anchorage to a small bridge. I'm lying with the anchor off(/from) the stem and stern towards the bridge and two ropes on shore. I'm lying between to mega(/gigantic) boats(/yachts). The smallest one is 45 ft. long. We sure look somewhat tiny here.

It has been some "intense" days. We have partied a number of times with David, Staycy, Guy and Joe. And the other day after being at it all day and half of the night, Nat and I went back to the house and shared a couple of bottles of wine and among other things talked until the night turned into day. After a shower we agreed to go to a bar and play billiards. So without any sleep we spent the whole day at the bar beating the locals in two-on-two billiards and of course it only took a couple of hours before we were "elevated". We went back home very tired at around 8 p.m. I have never been drinking that much in my entire life.

Yesterday Ladybug left for Australia. Today we have made lists of equipment and boat for sale, etc. and after that sailed Trojka out to a marina at the other end of town.

At the port I met a young Englishman, Jason, who sailed out there with me, then he escaped(/was let off) walking. Tomorrow Nat and I are to help Gary sailing his boat out there (too, edit). He is by the way the first I have met who actually have tried activating his EPIRB. He lost his nerves(/courage/confidence) during the(/his) journey from America to the Galapagos Islands, when(/after) his wind vane and autopilot broke down. Then you have to do the steering yourself, if you're not able to repair your way out of the problems. And the journey is going to(/will) take twice as long time since the boat has to be at a stand-still while you're sleeping. And then it also takes(/calls for) twice the(/as much) provisions.
He panicked. He really isn't fit(/suitable) for sailing alone, and didn't really ever want to. It was just some unlucky(/unfortunate) coincidences and a bad decision that did that he ended (up) out there alone(/by himself).
He activated it in the evening around 8 o'clock and during the night a civilian plane(/aircraft) had checked the(/his) position and the United States Coast Guard to find out if her husband or boat was in fact out there. And then she (naturally, edit) got nervous. In the morning a Coast Guard plane went out there, about 1000 miles, and had VHF contact with him. But by then he actually had repaired(/mended) his way out of the problems. They were very friendly(/fair) and he wasn't asked to pay anything. They simply(/merely) asked him to call when he get safely to shore and not be nervous to activate it again if he ran into difficulties. Well, how about that for a fine service. But of cause he should have waited until he was sure that he couldn't repair on of the operating systems. I would probably have been steering the boat right until getting into problems(/difficulties), or at least close to it(/until it was a close call), and actually have a SSB radio, so the opportunity to find a reserve autopilot or an extra crew member to help (hand) steering were possible, he just didn't try that possibility. I could tell(/sense) that he was nervous sailing alone to the marina (a pretty sure(/quite certain) sign(/indication) that he ought not(/really shouldn't) be on deep water by himself). So I immediately offered (him) Nat's and my help tomorrow which he happily accepted.

Papeete is the first (real) major city I have been to(/in) for a long time. Well, apart from Panama which I would rather just forget (about). A shit city and shit heads. Everything feels so(/enormously) hectic¨when you're watching the car traffic and (the) big city(/metropolitan) life.

It's a really nice place to be(/stay). And people are, like most I have met in Polynesia, incredibly (sweet and) nice and very (much) interested in the small boat. I'm expecting(/having) a visit from a journalist tomorrow.
We're staying at a private home, owned by Thomas and Rose. Nat's mom has paid (the) rent in advance for another month. She and Nat stayed here (for) a couple of days before she went back home.
We are to be in Los Angeles on(by) June 18. Then our plane leaves for Vancouver.

Our plan (once we're) in Canada is to meet family, friends and after that drive around in Nat's four-wheel drive(/4x4) for a couple of months to see(/experience) he country, go trekking(/hiking) in the mountains before she is to start working again. And the girl then is to provide for me, I'm going to be a "prosperous"(/well-to-do") man. She sure hasn't picked(/taken) me for the money, I don't have(/own) any. We're planning to build an A-frame (up) in the mountain side(/scenery). Nat believes(/thinks) that with that I would be so (very) busy that I wouldn't even have he time to start working.
I'm not going to be permitted to work there (legally) on a tourist visa. Nat says that it doesn't matter if I won't be able to work for a couple of years (you'll get a work permit when you marry). I think she is really(/truly) nice(/sweet); (I suppose) it's rarely seen(/a rare thing) that the girl is the only one working.

But she doesn't know me in that field(/respect) (yet, edit). I have always been pretty(/rather) good or lucky finding the right contacts and getting a job. It's possible (for me) to work up there if there's a company that wants to "import/sponsor" me. With my luck(/the luck I'm having/experiencing) I'll be alright.

Bredero, who I used to work(/be working) for, has a couple of plants up there, although I believe they're a long way(/distance) from where we'll be living(/residing).

Her "real" dad(/father) has had a construction firm(/company), and he has all the expertise(/expert knowledge), tools and connections we'll need(/be needing). Moreover(/Apart from this) I believe he has the right site(/location) also.

Now we're on a break from partying and are preparing ourselves to meet the civilisation once again and have gotten back (in)to our running routines also. Actually I have grown quite fond of drinking wine. Something I never used to before, so I have learned something during this journey.

Otherwise(/Apart from all this) we're walking around enjoying life and each other.