The next day I bought Den Blå Avis (Danish buy and sell newspaper, edit) and within the week I had purchased a boat that suited my limited budget. The size of the boat alone would make it even more challenging. During negotiation the owner wisely told that he thought I would benefit more from sailing with him for a few weekends than I would by getting the boat at a cheaper price. And that was how it went. I think I paid 23,000.00 DKK for the boat, purchased as seen in(/at) Genner Bay (Genner Bugt). I drove from Esbjerg (across Jutland, edit) to Kolding to purchase equipment and then down to Genner to mount. The equipment I felt I needed for my "big" sailing trip home past Funen and through the Kiel Canal was a handheld GPS to find my way, a sailor VHF radio (a little contact with the outside world might be nice), various life-saving equipment and a temporary electrical installation.

22 ft with a 6 hp engine. I thought it was just perfect.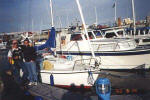 Jens (the now former owner) and I had some enjoyable sailing trips, which undoubtedly influenced my continued sailing and also made it easier to complete the following course. By now I knew a little bit about sail and boat, and knew the difference between starboard and port (right and left).

I had made an appointment at Svendborg Sailing School (Svendborg Sejlerskole) for a week's stay starting July 3, 1999. Well-prepared (so I thought) I unmoored in Sønderballe Harbour and took off headed for already plotted in waypoints on my little GPS towards Svendborg. My first sailing trip on my own, and of course I was caught in fog along the way.

Well assisted by plenty of waypoints (18!! better safe than sorry!) I worked my way through. I remember calling Jens, proudly telling him that right now I was sailing Wing on Wing approaching the Svendborgsund Bridge (Svendborgsundbroen) with my main and headsail, but without a boom, since I hadn't got one.
This week's stay was probably some of the best money I have spent.