2 March 2001 Los Pelicanos, Panama

There are very poor possibilities of landing dinghies. Most take turns sailing each other ashore. I hate being dependent on others so I rigged an anchor and ropes(/cordage) so I can drop anchor 10 metres from shore and pull the boat back and forth. I tied the moorings to the rocks.

Bruno and Helena also got ashore and I went with them into town and straight to the internet cafe where I mailed Nat. That girl is really sweet(/something else) and I'm looking forward to Sunday night. I thought I hadn't got(/received) any Christmas presents this time around......and then (the spirit of, edit) Christmas comes after all.

When I returned(/got back) to the anchorage, I had my doubts whether the anchor would hold. It looked as if I had gotten slightly closer to Mike, the Australian behind me. So I moved Trojka a little closer to the shore and found a big fishnet on my anchor. With this it couldn't stay stuck(/in place). I went for a dive and spotted(/saw) a lobster. I didn't catch it though, my experiences taken into consideration. The water is very cold compared to the Atlantic Ocean and(/so) here a suit is necessary.

I sailed round an American boat and had a chat with Bill. He's waiting for his girlfriend, who following salary(/wage) negotiations wasn't happy and had told them; To heck with it, I'm going sailing with Bill. Goodbye.
We agreed that Nat and I should drop by one of these days.

I saw a lovely little beach, deserted and hid nicely away. I want to go there another day with Nat. But it's not easy sailing to shore because of the rocks in the water.


Sunday

I was up early and had morning coffee with Bruno and Helena. Later I visited Magnus and Line, the young Swedish couple.
Beacon's transit is postponed until tomorrow so I'll have to wait another day for Nat.


Monday

I was tidying up Trojka and made(/did) some minor repairs and then all of a sudden Beacon was here. I blew a couple of giant toots with the horn and went over there in my dinghy when their anchor was set. I knew Stacy and her husband David would be on board. I hadn't met(/run into) David yet, since he had been to(/in) Holland working, but I was quite sure who of the three men on board was David, and I was right. Stacy is incredibly nice (to be around, edit) and so is David.

We celebrated their transit with champagne and after that we went to a cafe to get something to eat and drink. To get to the cafe we either have to walk pretty far or take a bus or taxi (tariff for local driving(/carting) is a dollar). But Stacy that crazy girl of course just jumped out in front of a pick-up truck, and soon we were all sitting on the truck body. Stacy and David had to go to the airport a little later to meet one of their friends, Guy. He's a South African and will sail with their boat (also). I told Stacy that she should(/could just) leave her backpack (here) and(/so) he did. (This way we could be sure that they would return. We like them both tremendously). A lot later they called from the airport and tld they were going to be late, but they would (however) come. They are to go back to their own boat in Colon, but now they had decided because of the - by now - late time in the day to stay overnight on board Beacon. Fine!(/Very well!).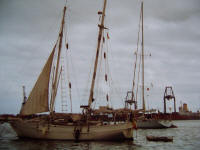 Guy, my very best Belgian friend's boat


I had asked David, the skipper on board Beacon if he could take my dinghy with him out to the boat, when he and the others walked home because of the tide and the dinghies were on the rocky coast. Much later when we returned to the anchorage, they were all sleeping so no one could sail us out there. Guy and I swam out to get my dinghy. The fluorescent things in the water looked incredible (phosphorescence). It looked like the green light was around our bodies and arms when we were swimming. Guy had never seen that(/it) before ad were completely fascinated(/impressed) by it (we were also drunk).

Stacy, David and Guy slept on board Beacon and went back to Colon before we woke up. Nat and I are unbelievable(/incredible) together.